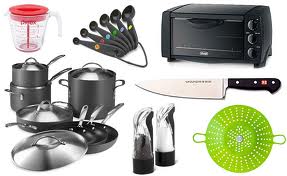 The amount of kitchen gadgets available to buy is mind boggling.
Do you really need that apple slicer or does a knife work just as well?  Will fresh garlic from a garlic press really make a difference in that pasta dish or will the Trader's Joe's chopped garlic in a jar suffice?
These are questions that may give first time apartment dwellers pause.
OakParkApartments.com is here to tell you to save your money and invest in only some essentials until you know if you even like to cook!
Here's what you will need:
Pots & pans: start with a non-stick frying pan (think fried eggs or grilled cheese) and a saucepan with a lid (pasta or soup).
Colander: to strain the pasta you cooked in the saucepan.
A good knife set: to chop some veggies!
Cutting board: to chop those veggies on!
Food storage containers: we all need to store left over pizza, don't we?
Wooden spoons/silicone spatulas: several sizes on the spatulas are helpful.
Mixing bowls with lids: these are multi-purpose and can also double as storage containers if you get ones with lids.
Cookie sheet: we all need to eat cookies, even if you use the slice and bake variety – it will also work for cooking pretty much anything else in the oven too.
Measuring cups/spoons: good if you are making cookies from scratch.
13 x 9″ metal roasting pan: anything you can't cook in the oven on a cookie sheet can be cooked in this and metal can go in the broiler (glass can't-fyi).
Can/bottle opener combo: soup can or beer bottle – this will work on either.
Toaster oven: it's really great for cooking/reheating meals – especially when cooking for one.
Coffee maker or tea kettle: just depends on what you like to drink in the a.m.
Oven Mitts: we don't want any burns!
Once you've got your kitchen established and or if cooking becomes a passion you can always add on to or upgrade your cookware as you see fit.
Bon Appetite!