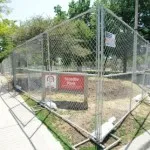 Fencing has officially encased all of Scoville Park and the park make over has officially begun!
OakParkApartments.com has several properties that are just blocks from Scoville Park (o.k. Scoville Park is literally in 173 N. Grove's front yard!) so it will be a real asset for many of our tenants!
Oak Park, being a very historical village, of course has parks with history as well.
Charles B. Scoville owned and donated the land now know as Scoville Park.  Scoville was then instrumental in the creation of Oak Park's Park District so the parks naming rights naturally went to him.  Scoville Park was Oak Park's first official park dating back to 1913 and was designed by famous landscape architect Jens Jensen.  To this day Scoville Park maintains much of Jensen's original design.
At the southeast entrance corner there is a replica of a fountain originally co-designed by sculptor Richard Bock and famed architect Frank Lloyd Wright. A World War I monument, Liberty flagpole as well as plaque commemorating Oak Park's founding settlers, the Kettlestrings, can also be found in Scoville Park. Scoville Park's history was honored in 2002 when it was added to the National Register of Historic Places.
Now for the new and improved Scoville Park design.  The design includes a new playground, pathways, tennis courts, lights and a Peace Plaza around the World War I memorial. Also more than 100 trees will be planted.  We've even heard rumors of a more permanent stage which will be great for the Sunday night music in the park series!
The park is closed as of this Monday and will be reopened some time in the spring of 2013.