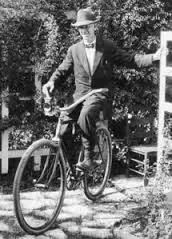 Oak Park prides itself on a lot of things – architecture, diversity, a fun place to live and its history. And thanks to one particular early Oak Parker, Philander Barclay, Oak Park has much of its' history captured on film.
Barclay was a bicycle repairman by trade with a passion for photography. Sometime in the 1880's Bicycle Barclay, as he is fondly known, diligently traversed throughout the two communities of Oak Park and River Forest on his bicycle taking pictures of architecture, railroads and people.
Because of Barclay's passion for photography, cycling and the world around him the communities of Oak Park and River Forest are fortunate benefactors of a rich and extraordinary collection of over 1,000 photos that tell much of the early history of our villages.
The complete collection of Philander Barclay's photographs can be viewed at The Historical Society of Oak Park & River Forest or you can see some of Barclay's photos on the walls of the two Oak Park restaurants that are named after the historian, Barclay's American Grill and Poor Phil's.