---
Frank Lloyd Wright has put Oak Park on the architectural map, making our village a destination for those who love both architecture and history.
FLW may be the most famous of Oak Park craftsmen but there are other notable architects that have left their mark on homes, churches and yes, apartments, throughout Oak Park that are worth a look.
Tallmadge & Watson, George Washington Maher and E.E. Roberts are all noteworthy designers whose architectural impact justifies some attention.
Tallmadge & Watson – Widely know for over thirty churches designed during their partnership, the architectural duo of Thomas Eddy Tallmadge and Vernon S. Watson also put their mark on many numerous private homes.
First United Methodist Church of Oak Park is one such example of a Tallmadge and Watson ecclesiastical project.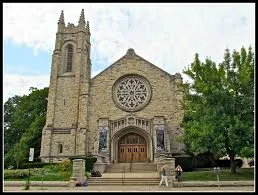 George W. Maher – The John Farson house or Pleasant Home, built in 1847, is an Oak Park landmark and masterpiece designed by Maher.  Known for both prairie and arts and crafts styles of architecture, Maher's other notable Oak Park designs include Unity Church of Oak Park as well as many stately residences.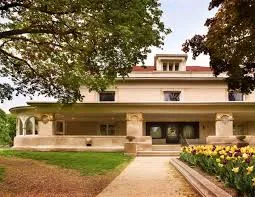 E.E. Roberts –  Roberts established his architectural practice in Oak Park, designing well over 200 homes and apartments. His practice grew to be the largest in Oak Park, even larger then the famed Frank Lloyd Wright. Though his architectural styles varied, Roberts largely favored the Prairie Style and its' horizontal lines.
Oak Park Apartments very own Park Manor Apartments at 173 – 186 North Grove Avenue is a unique E.E. Roberts design featuring whimsical gargoyles on a beautiful Tudor-revival building.