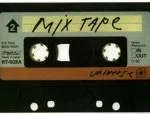 OakParkApartments.com just wants to spread the news about friend and tenant, Val's Halla Records 40th anniversary sale this week end.
40 years in business is a big deal!  To commemorate "Val"entine's Day, LOVE (Val's love of all things music!) and 40 years in the record business, Val is offering all who come in 40% off the "ultimate love token – the mixtape"!
There have been rumors of a "cassette resurgence", so Val's 40% off sale could be a real goldmine for music lovers♥!
For those of you who may not know, Val's Halla is an independent record store whose owner, Val Camilletti, shows true heart and passion for the music industry, then and now!  Come show her some love by stopping and shopping at Val's this weekend!
Follow Val on facebook to get info on all the 40th anniversary festivities! https://www.facebook.com/events/224004097692735/ or check out Val's website just because it's cool(and so is Val)!: http://www.valshalla.com/index.htm
Oh, and hey – you'll be shopping local as well!