As property managers OakParkApartments is always looking for ways to improve the quality of life for our tenants.  With over 1,000 properties and many more tenants it is hard to know every tenant as personally as we'd like but by regularly surveying our tenants we are able to gain the valuable feedback and insights into how to keep our tenants happy.
Our latest survey results are coming in and we are pleased to say that what we are most proud of is our staff!  When tenants were asked "How helpful is our office staff?", our tenants replied loud and clear with 90% responding "very helpful" or "extremely helpful" to our question.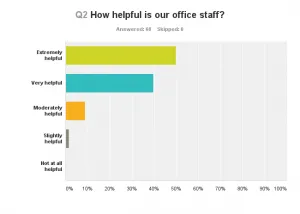 Why do we care what our tenants think?  Quite frankly, happy tenants tend to stay our tenants longer. Less turnover of our apartments is less costly for us as a company and we can then, in turn, do other things with that cost savings to improve our properties.
And yes, not everything we hear is always glowing but that too can help us step up our apartment game, making the necessary changes and improvements in both running our business and updating our properties for the sake of our customers.
So, tenants, when you see an OakParkApartments Survey Monkey email in your inbox don't just hit delete, take a minute to help OPA know what you're thinking!