OakParkApartments.com knows a good deal when it hears one and we want all Oak Park shoppers to start saving receipts from local Oak Park businesses because Downtown Oak Park's (DTOP) Shopper's Reward Program is underway.
"What," you ask, "is involved in the Shopper's Reward Program?"
Quite simply it is a way Oak Park rewards folks for shopping local during the holidays. Shopper's are instructed to collect original receipts from a mix of 7 local business or more with those receipts totaling a minimum of $400. The program started November 1st (yes OPA is a little late getting out the program news – we just can't believe it is November already) and runs until December 25th.  Shopper's are required to spend a minimum of $25 at each of the local participating stores in order for individual receipts to qualify – an easy feat for most shoppers!
DTOP has a few program requirements in order to participate and for receipts to be valid:
Limit 3 Shopper's Rewards certificate booklets per household.
Must have original store detail receipt.
— NO photos copies
— NO debit or credit card statements
— NO medical or contractual services
Receipts must be dated from Nov. 1, 2015 to Dec. 25, 2015.
Receipts must be from participating Downtown Oak Park businesses listed on the back of this envelope, or they will not be accepted.
What do you "get" for all this local shopping and receipt collecting during a holiday season that can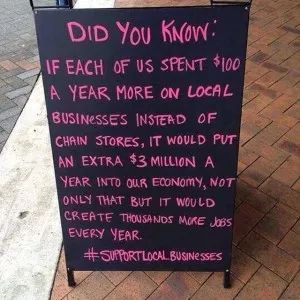 tend to leave one frazzled anyway ….. well, between $50 – $150 in reward bucks with $150 being the max you can earn – that can be spent between January 1st and February 15th at those very same local participating businesses that you originally shopped at.
There are a variety of businesses that are involved in this program – restaurants, hair salons, spas, stationary, clothing, antique stores plus much more. In fact over 60 local businesses are participating in the program so there should be no problem getting the required amount of receipts at the $25 spending minimum with all these options. You are sure to be able to knock something off your holiday list with this many local merchants to choose from.
And then, come January you have a little $$ to spend on you!