With Thanksgiving only 1 week away OakParkApartments.com knows the giving nature of our Oak Park community so we decided to blog about two of the local charities that would benefit from some pre-turkey charitable giving.
The Oak Park River Forest Food Pantry is an excellent Oak Park based charity that serves over 45,000 individuals
annually in a mission to alleviate hunger.
A monetary donation to the Pantry will make the biggest impact at the Pantry because they can purchase food at a dramatic discount – making your dollars reach farther to fight hunger.
Simply put the Pantry can provide a lot of food for a little money. According to the OPRFFP's website, "A typical food allotment (pictured) costs $83.69 at a retail grocery store." The Pantry purchased the food pictured for just $8.55.
To make a donation, click http://oprffoodpantry.org/donate/ .
The Holiday Food and Gift Basket (HFGB) provides food gift cards for low income families, seniors and singles who are living in Oak Park and River Forest for Thanksgiving.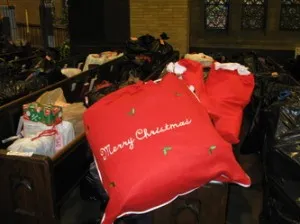 The program has been around since 1970 and will provide assistance to over 900 households this holiday season alone.  The HFGB asks for monetary donations to fund the Thanksgiving food gift card drive.
In addition HFGB  coordinates sponsors to purchase holiday gifts during December, how ever one may celebrate the season of giving.
To donate money send a check payable to: Holiday Food and Gift Basket @ HFGB, P.O. Box 3365, Oak Park, IL  60303 or to become a sponsor contact: [email protected].
If you can not afford to donate at this time both organizations could use your help as a volunteer – another important way of giving during the holidays!