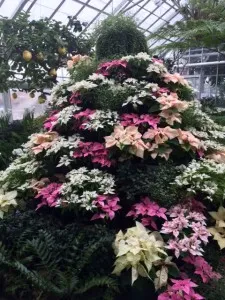 Last weekends warm 60 degree weather brought spring within our grasp here in Oak Park.  Realizing how fickle winter weather can be in the mid-west we understand what a gift last weekend was. As we look at the upcoming forecast and see the return of what is average (no complaining here!) for this time of the year we really start to crave warmth, sunshine, green grass, flowers and all things spring.
Well, here to help us through the rest of winter is the Oak Park Conservatory.
The Oak Park Conservatory is a true treasure to all who need to reconnect with nature, slow down the pace of life and simply just breathe in the smells of things that grow.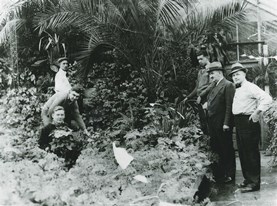 The Conservatory has been in existence since 1929 and houses over 3,000 exotic plants, some of which have been there since its' inception. Unfortunately, over the years and through tough economic times, the Conservatory fell into dis-repair.   By 1970 there were plans to demolish this Edwardian structure until a group of Oak Park citizens took an active role to preserve, enhance and upkeep this important space.  In 1986 this group formally incorporated to form the Friends of the Oak Park Conservatory (FOPCON) and have worked diligently over the years, raising more than $600,000 for continued improvements, upkeep and programming for all to enjoy.
The efforts of the FOPCON have truly paid off.  In 2005 the Conservatory was named to the National Register of Historic Places and then in 2011, the Rubinstein Memorial Garden was opened. This new outdoor garden space serves as a "quiet space for reflection."
This past September the Elsie Jacobsen Discovery Garden opened, named for the woman who began the "Save The (then named) Garfield Conservatory" campaign. The garden's outdoor experience allows for young and old alike to "observe, touch and interact with plants and natural materials, through self-guided activities and facilitated programs.  A water feature with pump travels the length of the garden from North to South."  Truly a tribute to the woman who believed in preserving the power of nature!
So, as we continue through the winters lows and highs take time to head over to the Oak Park Conservatory – it is one of the many reasons to ♥ Oak Park.