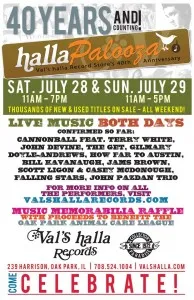 Advice that is often given to those searching for a career is to "find something you are passionate about and do it for a living."
Val is the epitome of finding that passion and we, at OakParkApartments.com, want to congratulate Val on 40 successful record, 8 track, cassette and compact disc filled years!
Val's story goes a little something like this… After working for Capital Records in their PR department and then running a "5 store discount record chain" Val decided to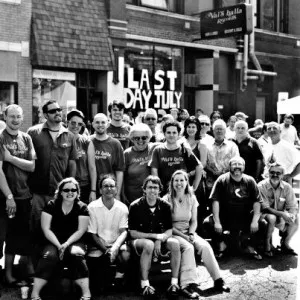 follow her passion for music along with the lure of being able to call her own shots and opened Val's Halla Records back in 1972 on South Boulevard in Oak Park.
Forty years and one move to the Harrison Street Arts District later Val continues to live out her passion for music.
Join musical icon Val at her 40th anniversary hallaPalooza celebration, featuring, what else, MUSIC!  This weekend – July 28th and 29th
– live music and a music memorabilia raffle with raffle proceeds going to Val's other passion – The Animal Care League!
OakParkApartments.com salutes Val and 40 years of living your passsion!