OakParkApartments.com is going to the birds… literally.
To further our efforts of being good environmental stewards of this Earth and the Oak Park community specifically, OPA is adding 24 birdhouses at our properties.
Why birdhouses?  Attracting a variety of birds to your neighborhood provides a vital service for the ecosystem. Birds eat insects, weed seeds as well as pollinate flowers.  Plus, the habitats for local bird species, like wrens and chickadees, are being threatened by land development so providing housing will help to ensure that these birds continue to not only survive but to thrive.
When putting up our OPA birdhouses we didn't need local Village of Oak Park permits but we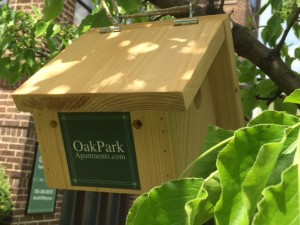 still needed to correctly install our birdhouses if we wanted to have our feathered friends actually move in.  We found out, thanks to our friends at Avian Architects, that bird houses need to be out of direct sunlight, facing away from prevailing winds and hung on a strong tree limb (far enough out so predators can not reach) or mounted on a sturdy pole.
Finally, the last and most important reason for installing our OPA birdhouses is for you, our tenants & neighbors, to watch and enjoy!