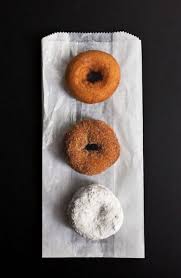 Oak Park's 42nd annual Farmer's Market starts this Saturday.
Yes, Oak Park Apartments loves the locally grown fruits and veggies, the specialty cheeses, the wide assortment of jams and honey, the beautiful fresh cut flowers and perennials that can be planted in your own backyard… but the # 1 reason, in our humble opinion, to go to the Farmer's Market is for a freshly made, melt in your mouth donuts!
Cinnamon, powdered sugar or plain.  Each holds its own appeal.  These donuts are made fresh at Pilgrim Church in the wee morning hours.  You can purchase one or a dozen but get there early because they sell out fast.
A good strategy to employ in order to make sure you are not shut out of a delectable donut is to head to the back corner of the church next to the kiddie playground. The line can be long, sometimes circling the entire width of the church, but the wait is worth it.  Buy a few.  Or a dozen. Then, with donut and coffee in hand you can meander the market and make some other delicious and healthy purchases.
The added bonus is that various local non-profit organizations make the donuts week to week, earning money for Pilgrim Church as well as their organizations so, not only are you enjoying the best donut around but you are being philanthropic as well!