OakParkApartments.com is very honored to be receiving the Oak Park River Forest Community Foundation's Excellence in Philanthropy Award for a business that "demonstrated outstanding fundraising support and/or activity performed by its members to benefit local charitable causes."
OakParkApartments.com and its owners, brothers Bill and Bob Planek, have always felt very strongly about the community that they grew up in, started their business in and are raising their families in.  When they reached the milestone of 25 years in business the Planek brothers felt that celebrating by giving back to the Oak Park community was the obvious choice.
Since both Planeks' have long sponsored many charities the decision of which charity to

support was tough – from there the idea of the contest was born.  It was agreed that Oak Park would decide the charities through an online voting contest, truly making the 25th anniversary celebration a community event!
Over the past 25 years OakParkApartments.com has also backed other causes, from housing refugees through Exodus World Servie, to providing local teens job training and mentorship through the Jobs 1 Program, to sponsorship and coaching efforts for local youth baseball and softball organizations.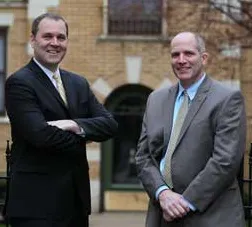 Bill and Bob Planek would like to express their sincerest thanks to the Oak Park River Forest Community Foundation for the recognition this award brings to OakParkApartments.com's efforts to give back to the Oak Park community!
Thank you again and get ready for this year's celebration.  The brothers had so much fun with the charity contest that they've dreamed up something big for 2012…. stay tuned!