OakParkApartments.com has many buildings that are truly architecturally beautiful but none that are quite as significant as our Park Manor property, located at 173 – 181 North Grove.
This architectural gem of a courtyard apartment building is said to be one the the most distinguished designs of famed architect, E.E. Roberts.
E.E. Roberts, both owner and architect of this particular building, began construction in 1922. Before the building was even completed the reviews were positive.  The Tudor Revival style apartment building was considered "one of the most interesting buildings that has ever been erected on the west side for an apartment."   During the construction the Oak Leaves newspaper commented that "the owner is sparing no pains or expense in making this as modern in every detail possible."
In 1926 construction began on an addition to the building to create the courtyard structure that stands today.  Upon completion the building received further praise stating it was "the village's most luxuriously appointed building."  Each apartment was considered very desirable, with luxuries that included a vacuum cleaning system, electric refrigerator, outlets in each apartment, servants quarters, and yes, large closets!
As part of his design, E.E. Roberts incorporated many elements that were not standard to the buildings exterior, including: window bays, sun porches, gable roofs and some very impressive cast stone ornamentation – we like to say that he was a "head" of his time!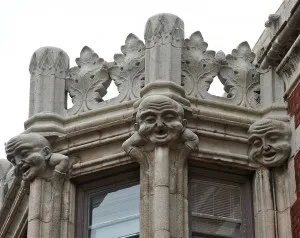 This E.E. Roberts building is probably best known for the 36 gargoyle – like "heads" that represented the masons who worked on the project.  E.E. Roberts was praised for including these heads to the structure – it was felt they added a "lively sense of humor" to the building.