Living in a small space can be a challenge in an era where acquiring more "things" is a part of societies consumeristic nature.  But, if you would like your apartment to feel spacious, simple is the way to go.
To achieve the open airy feeling in your small space, the first step is to de-clutter and then organize what you have, creatively storing items out in the open.
Furniture does not have to be small but if you are using big pieces less is more.  Armless sofas and/or chairs allows for a more spacious feel in a living room.
Choose a sofa that shows its' "legs" not one with a "skirt" – this creates a more open feel as well as looking modern.
Find furniture that is versatile.  Ottomans that can serve as storage or seating. A coffee table that can be used as an office desk.  Or choose pieces that can be folded, stacked or wheeled away when not in use.
Float your furniture.  Anchor that sofa on an area rug with the front legs on the rug and the back legs off.  That sofa table we mentioned above will look great behind that sofa and is multi-purpose.
Floor to ceiling bookcases or shelving are great way to maximize your storage as well as creating the feeling of horizontal space. And leave some empty space on those shelves – that helps to keep the "airy" vibe.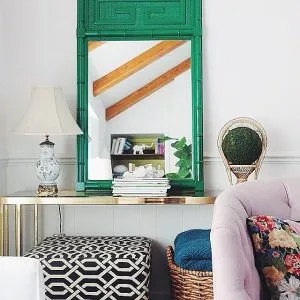 Use architectural mirrors either hung on the wall or larger mirrors placed strategically on the floor to reflect the light and open up a small space.
Finally, let in the light!  Sheer curtains in a living room can make a space feel larger while still maintaining privacy.
These few basic decorating tips will allow you to live "large" and love the simplicity of small space living.