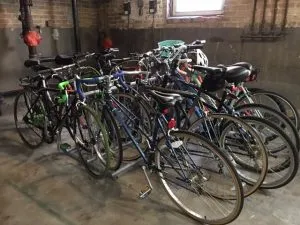 Oak Park is a bicycle friendly village. The Village has worked hard over the years to create a community wide bike plan, register bikes with the police department, add bike paths and bike racks to encourage pedaling and promote guidelines for bikers and motorist to peacefully co-exist.
The Village's pro-biking efforts have even earned them the title of Bike Friendly Community in 2015 by the League of American Bicyclists. And, since Oak Park is never one to rest on past accolades, they have continued to promote pedal power by approving and installing 13 Divvy bike sharing stations throughout Oak Park just this summer.
So how does this all relate to Oak Park Apartments?
We are a company that values a green mission as well as wanting to provide amenities that benefit our tenants.
A large portion of our tenants are Millennials (19 – 34 year olds) and Millennials bike, walk, use public transportation, rent and take active interest in caring for the environment more then the Baby Boomer generation.
In order to meet the trends of our Millennial tenants and continue supporting common sense green initiatives, OPA has installed indoor bike racks at 26 of our properties with plans for more to come!
Is this shift towards biking here to stay?  OPA is planning on it!
Keep on pedaling, Oak Park!